For those who love their Rock music... I'm not talking Screaming and shouting crap... Im talking old school!
TOXIC FEDERATION
Newest Album Entitled "AS ONE" will be released On Itunes, HMV and the .com site on SEPTEMBER 11TH...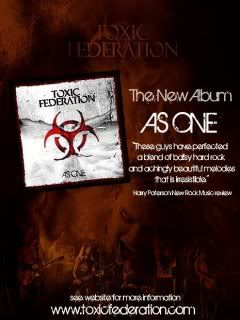 Scheduled tour dates:
Preview Launch - Greenbelt Christian Rock Festival - Aug 27th
Preview Launch - Edinburgh Fringe Festival - Aug 28th
Official Launch - Sept 11th - JBs Brit Rock Festival - Dudley/Birmingham - Headlining slot
European and Asian Tour dates as well as the FULL UK dates to follow after all is confirmed!
There are talks of a few American Tour dates coming up with a few bands i bet you will all know but that will all be revealed later  :shades: